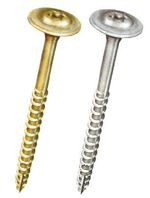 GRK's patented Rugged Structural Screws are made of specially hardened steel to provide high tensile, torque and shear strength. Sharp threads and points bite instantly into building materials (including hardwood) - reducing the splitting effect due to smaller shanks.
Our round head with built-in shield (washer type head) has no sharp edges such as on conventional lag screws. The added shoulder (nominal diameter) underneath the washer has the ability to center the RSS ® screw in pre-drilled hardware like hinges and connector plates.
Self-tapping screws with W-Cut thread design, Zip-Tip, and Climatek coated

May be used for Lagscrew replacement

Sharp threads & points

Built-in washer

Climatek plated & hardened steel
The RSS screw is the only lag screw replacement of its kind.
The RSS ® is available in a variety of sizes up to 16". RSS ® fasteners are available with (gold colored) Climatek ® coating and some sizes are available in Pheinox ® stainless steel. Discerning builders appreciate the quality, appearance, ease-of-use and technical merits of choosing GRK Fasteners for their projects.